Businesses today are increasingly opting for more convenient and flexible options for their employees. Investing in a quality day office from Metro Offices can benefit your up-and-coming business in numerous ways. Our offices are designed to help you enhance performance and productivity while avoiding the distractions and expenses of facility maintenance. Here are the top features of our day offices: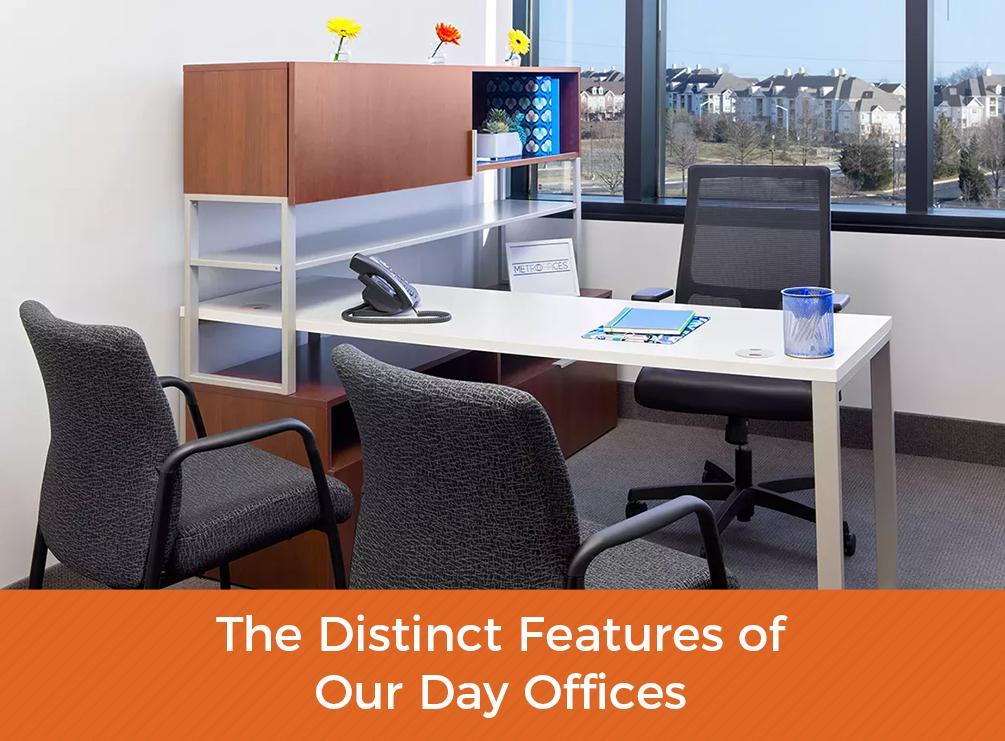 Advanced Technology Services
Our day offices come with a fast and secure technology platform that includes high-speed internet, Wi-Fi, cloud computing, as well as hosting solutions and a data center, to help your business get an edge in the corporate jungle. Additionally, our help desk is fully equipped to help resolve any technical issues. This includes network support, spyware removal, data retrieval, and Microsoft troubleshooting and maintenance.
Comfortable Environment
Unlike traditional office spaces, our day offices have community cafes and member lounges that allow you to connect with like-minded professionals. You can take a break and enjoy the spectacular views from our many locations while presenting a professional image with our impressive lobby and staff. Our offices also help promote better communication and collaboration through bright, airy spaces that are equipped with modern HON furniture.
Excellent Communications Platform
Our workspaces also come with state-of-the-art communications platforms that allow you to manage calls and messages with a single, user-friendly interface. Connect with your employees easily and maximize your team's productivity with our different amenities. Collaborative tools like virtual boardrooms, private chat networks, and unlimited calls are among the many benefits we offer.
Our day office solutions also give you full access to our wide selection of meeting spaces. Each room comes with the proper equipment and support staff to ensure a smoother and more productive presentation. In addition, our conference and training rooms are flexible enough to accommodate a large number of participants.
Metro Offices offers day offices and other innovative workspaces to help optimize your productivity and comfort. In addition, these come with flexible terms and a simple monthly bill. We serve Chevy Chase, MD, Tysons, VA, and Connecticut Avenue in Washington, DC. Call us today at (703) 871-5208 to rent a wonderful day office for your company.