Metro Offices, the experienced, local day office space provider, has partnered with Autism Speaks and participated in this year's Light It Up Blue. Every April 2nd, thousands of iconic landmarks and buildings join the hundreds of thousands of homes and communities around the world to light up in blue in support of people living with autism. Learn more here: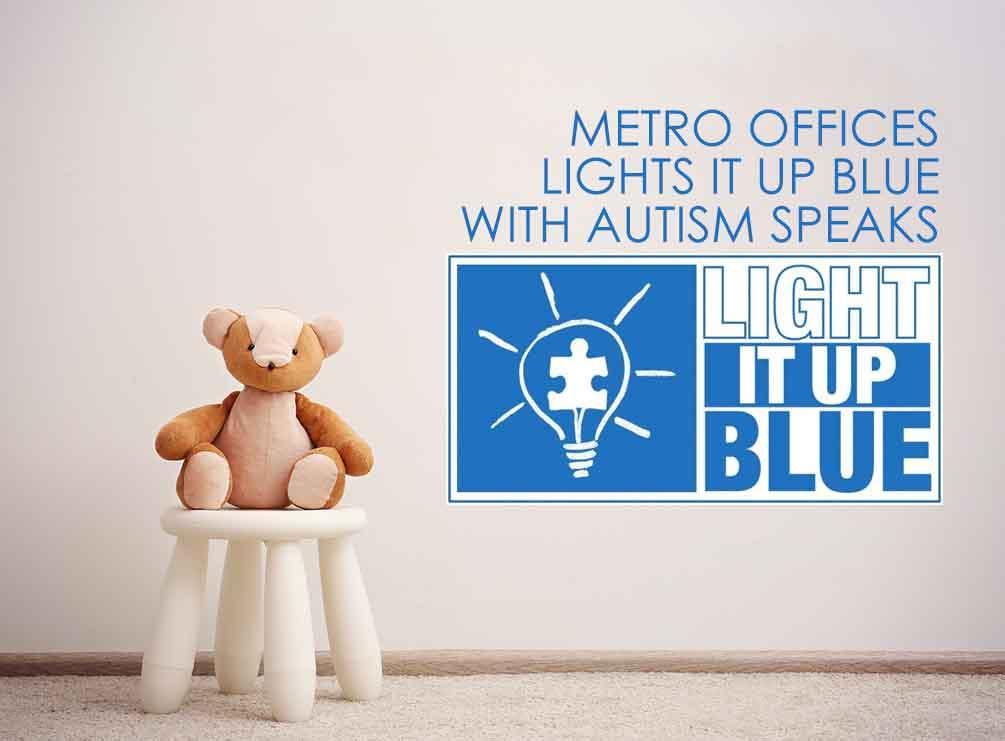 What Is World Autism Awareness Day?
April 2nd is World Autism Awareness Day (WAAD), which seeks to bring the world's attention to autism, a disorder that affects tens of millions. WAAD activities, like Light It Up Blue, can help increase and develop global knowledge about children and adults with autism spectrum disorder. It also celebrates the unique talents and skills of the people who fall within the autism spectrum. Participating in WAAD is a way for us to show our appreciation and to help give a voice to the millions of individuals with autism.
What Is Autism Speaks?
Autism Speaks promotes solutions for the needs of individuals with autism and their families through support and advocacy. They also focus on increasing understanding and acceptance of autism spectrum disorder, as well as advancing research into causes and better interventions for autism and related conditions. Autism Speaks seeks to help individuals across the spectrum and throughout their life span, and Metro, the leading choice for day office and other workplace solutions, is proud to be their partner.
What Is Metro Offices?
Metro Offices helps businesses by providing the infrastructure and support they need to remain competitive in their industry. This support comes in many forms including business support services, technological support services, and workspace solutions. We have over two decades of experience and we have helped tens of thousands of clients.
Together with Autism Speaks, Metro Offices is committed to helping increase awareness and understanding about autism. You can learn more about the event at the Light It Up Blue website. Together, we can enhance the lives of our neighbors.
Metro Offices is the top choice for day offices in our area. We also offer a wide range of workspace solutions and business support services. We serve many areas including Washington DC, Tysons, VA, and Chevy Chase, MD. Call us at (703) 871-5208 to learn more about our participation in Light It Up Blue.