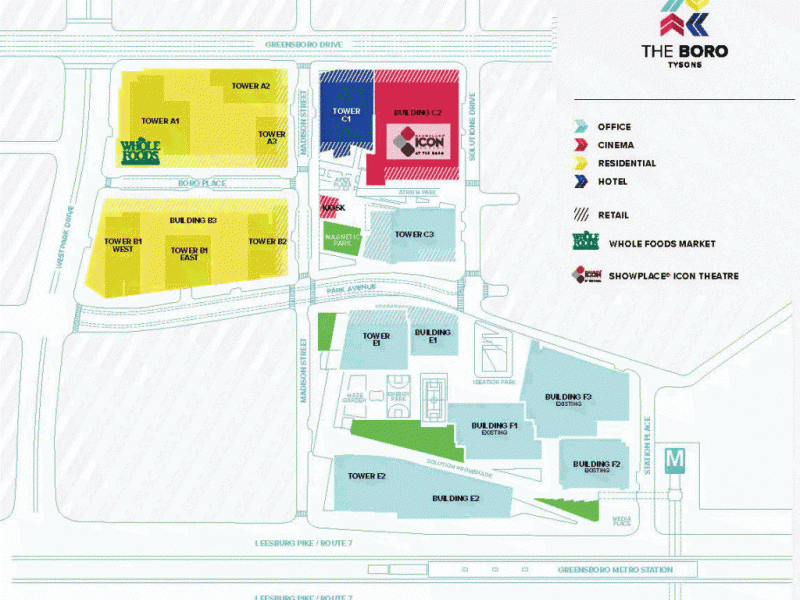 The former SAIC campus is being reborn as a new development right on the doorstep of Metro Offices' newest center at Tysons at Greensboro Station Place, situated just adjacent to the Greensboro Silver Line Metro Station. In early January, the Fairfax County Board of Supervisors gave final approval to a massive 18-acre development known as The Boro. The project will add more than four million square feet of residential, commercial and retail to the Tysons area.
Included in the final blueprints are 14 buildings containing a mix of offices, apartments, shops and hotel space. Offices will be located in three towers within a short walk of the Metro. Situated a slightly farther distance away will be five apartment buildings with more than 2,000 units when fully built-out, along with 430,000 square feet of retail space including a Whole Foods Market; more than four acres of public green space; a hotel and a public library.
In addition to the new structures, the development will also include the addition of three new pedestrian-friendly streets to make the neighborhood more walkable. A later phase of the project involves construction of a new 15-screen Showplace Icon theater, featuring reserved seating and a bistro with full bar.
Learn more about projects slated for the Tysons area in 2016.
Live, Work & Play in the Heart of Tysons
Whether you crave the perfect place to live, work or both, you'll find it at Tysons. Be close to all the action with your own innovative Tysons Corner office space tailored to the way you work. Call (703) 871-5208 to learn more about the possibilities at our premier Tysons, VA, office space!