At Metro Offices, we spend a great deal of time listening to our clients, so we can help them find the best solutions for their office space needs. One of the questions we're often asked concerns hoteling. It's a solution that we have offered at our centers for some time, yet many companies are still unsure just what hoteling is, how it differs from hotdesking, for example, and how it could benefit their business. Let's take a look.
So What's Hoteling?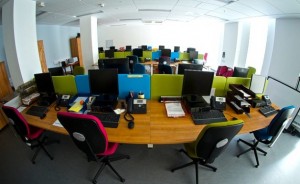 Office hoteling is a new way to use the traditional office space. Rather than assigning permanent office space to each employee – including those who aren't in the office every day – the hoteling system assigns a temporary desk or meeting space to employees for a single day. These systems run on a first-come, first-served basis, and reservations are made through an electronic reservation system.
Could It Work for Your Business?
Hoteling can be an excellent solution for companies that have a large percentage of mobile employees, such as those who travel or work flexible hours in multiple locations. It gives these employees the assurance that they will have a space when returning to the office, without being relegated to working in the lobby or storage room because there aren't any spare desks available. There is always space available for work or Washington DC meeting rooms with hoteling.
Another advantage for companies is that hoteling minimizes the square footage of an office because there are no desks that sit empty for days at a time. This means lower costs to lease Fairfax, VA, office space and lower business taxes.
Learn more about how to make hoteling work for your business.
Contact Us for a Free Consultation
Hoteling isn't right for every business, but it can be ideal in some situations. If your organization is contemplating hoteling, contact Metro Offices today at (703) 871-5208 for a free workspace consultation. We can help you make the best decisions for your needs.