Meetings at work can be rewarding. They don't have to be long and dull affairs. In fact, nothing is worse than going to one and coming out without having learned or achieved anything. Metro Offices talks about four ways to make your work meetings less tedious and more productive.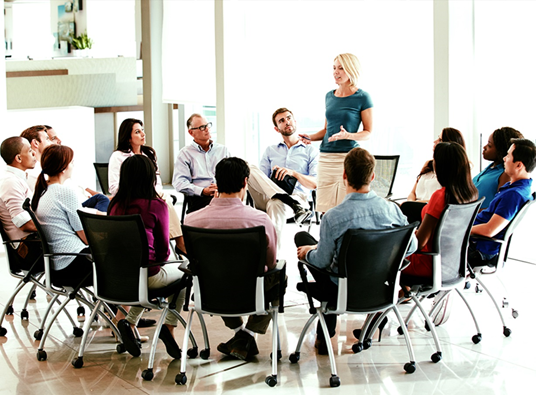 Prepare Environment
Our surroundings inform our mood and energy. If your meeting place is full of distractions, it is not conducive to brainstorming and collaboration, which means less work is likely get done. What you want is a meeting space that is comfortable, well-equipped, and professional.
This is something Metro Offices can provide. Amenities such as food, drink, dedicated broadband connectivity, and visual equipment such as LCD projectors, white boards, and flip charts are also available in our meeting spaces.
Promote Interaction
All those present at the meeting should participate by listening attentively and asking questions. If you are the presenter, encourage attendees to share ideas and express their concerns.
This applies even during video conferences. In today's world of dispersed teams and remote workers, conducting meetings through the internet is rising in popularity. Metro Offices provides first-class video conferencing services in Washington, DC, with dedicated bandwidth, projectors, speaker phone systems, and support staff to make sure everything goes smoothly.
Set a Clear Framework
Make sure that everyone involved in the meeting knows the agenda in advance. Make sure to stick to the tasks you planned. By having a framework to follow, the meeting can be more productive. Avoid going off-topic; spend more less time discussing unrelated things to get the more relevant tasks done.
Use Visuals
Meetings often involve large amounts of information. Humans are visual creatures, and the best way to communicate new ideas or policies is by engaging the eyes. Our meeting spaces can furnish you with whatever visual equipment you need. If you use the power of dynamic visuals properly, you will have well-informed and active participants instead of a passive audience.
Got a meeting? Metro Offices can provide your business meetings the support they need in order to be successful and productive. We offer business support services, meeting spaces, video conferencing, unified communication systems, and IT help desk in Washington, DC. We also specialize in providing flexible office space solutions for every working style. Feel free to call us to learn more about the services we offer.