Having a physical office space is critical to the success of any growing business. A physical space where you can convene with your workers as well as interact and network with other nearby businesses is important. However, finding affordable office space can be a challenge if you don't know where to look. Rent for office space or a long-term lease for office space can be huge expenses especially if you're a company just starting out. That's where hot-desking and co-working—2 new workspace solutions---can help.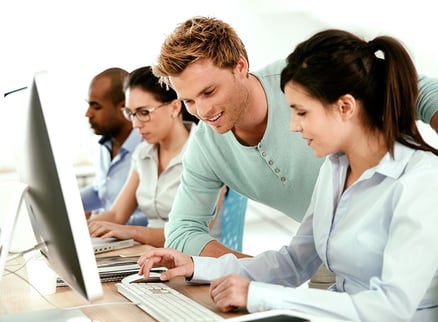 Flexible Workspace Solutions
Hot-desking in a Washington, DC office space is when more than one person shares a single workstation. This practice is common for businesses with 24-hour work cycles. It's a cost-effective way to save space and valuable resources. Managed properly, it can keep your business going while being altogether economical with a critical expense.
The concept of co-working is similar. You have a group of people collaborating and working together in a communal area. Co-working may be a little less private, but with many companies that implement coworking, workers tend to feel more connected. The environment in these office spaces is often lighter and more relaxed compared to traditional work places, and is preferred by those who want to change from a stuffy corporate atmosphere.
Productive Workspace Solutions
The nature of doing business has changed significantly in the last decade. It's not about where you work but rather how you work. Work is no longer done solely in a single, fixed location. With many new businesses being far more dynamic and fast-paced, co-working and hot-desking provide ideal setups that allow owners and employees to be as flexible and independent as they need to be. They're practical solutions that work well.
Whether your business is just starting up or trying to stay competitive, Metro Offices has the perfect workspace solution for you. We can help you set up a workspace solution that suits your business and its growing needs—it's hot-desking, co-working and many other flexible workspace solutions.
If it's a great office space in Washington, DC you need, look no further than Metro Office. We have several prestigious office locations in premier areas in DC, Maryland and Virginia, each of which can give your business the boost it needs. Our full-service enterprise suite is customizable to meet your business' unique needs. Give us a call today to get started.