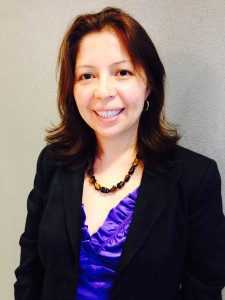 Isolda Giaudrone, Center Manager at our Chevy Chase office, has worked at Metro Offices for six years. Isolda's responsibilities include managing daily operations of an executive suite, managing and negotiating client contracts, and mentoring junior staff and providing them with opportunities for skill growth. She feels her greatest strength is her sense of humor.
"My favorite thing about working for Metro Offices is the atmosphere and the core values of the people I work with," says Isolda. "The exceptional customer service and professional team we provide daily really set us apart from other office space for rent in Washington, DC."
Isolda grew up in El Salvador, and appreciates the variety of cultural cuisine found near the Chevy Chase center. Her favorite place to dine out in the area is Black Market Bistro. Isolda has been been married for nine years and has two beautiful sons, ages six and four. "I am most proud of raising two different boys and appreciating the little things," she says.
In her free time, Isolda enjoys biking and reading comics. Her favorite TV show is Amazing Race. If she could go anywhere for a day, she would head to Seychelles, a tiny island off the east coast of Africa. "Aside from being safely isolated from the rest of the world in the middle of the Indian Ocean, this beautiful island nation is a great place to forget about your worries. I would do nothing and just enjoy the tranquility and beauty around me."
A trip to Seychelles would fit in with two of Isolda's long-term goals, which are to worry less and take one day at a time. She would give others this one piece of advice about life: "If you cannot find a good companion to walk with, walk alone. It is better to be alone than with those that will hinder your progress." Thank you, Isolda, for being an important part of the Metro Offices team!