Construction is booming in the Tysons Corner area and these developments spell promising changes. And while the local economy is getting stronger, public spaces are being designed to accommodate multiple uses and urban amenities are being made more accessible. Organizations within the Tysons Corner region are adapting to these changes and anticipating future shifts by creating office space that provides multiple options. In light of these many changes, the team at Metro Offices is poised to make development and innovation for Tysons Corner office space a reality.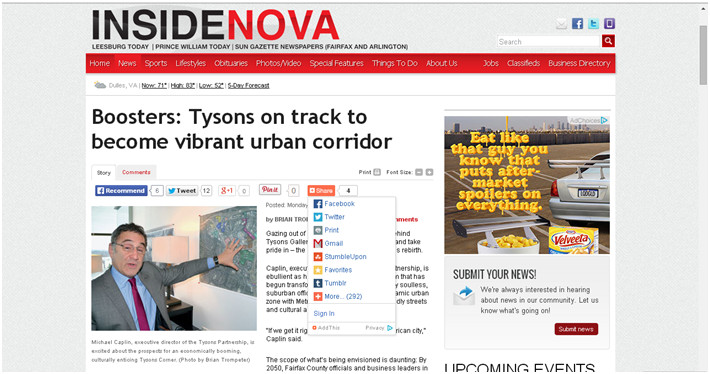 The building projects currently taking shape are transforming existing rooms into spaces that are ready for different applications. Though multi-use building planning strategies are frequently applied to new structures, the same principles can be used to reinvigorate existing Tysons VA office space facilities.
A recent article from Inside Nova explains the impact this new kind of development could have on the area:
Caplin, executive director of the Tysons Partnership, is ebullient as he describes the building boom that has begun transforming a lucrative, but relatively soulless, suburban office-and-retail center into a dynamic urban zone with Metrorail service, pedestrian-friendly streets and cultural amenities.
"If we get it right, it will be a triumphant American city," Caplin said.
The scope of what's being envisioned is daunting: By 2050, Fairfax County officials and business leaders in Tysons want to double the amount of development to 90 million square feet, go from 19,000 residents to 100,000, and double the number of jobs to 200,000.
Many of these new spaces are expected to include flexible office solutions; these are strategies that take into account the many applications that professional space is intended for. This often means updating the technology present inside these spaces: conference readiness, multimedia connectivity, and ease of networking -- three concerns that drive most of the redesign projects to stay relevant in a rapidly changing professional world.
Metro Offices takes note of these developments -- particularly the revitalization of office space into multi-use properties, and provides flexible workspace solutions for just about any type of business. Give us a call today to get the best office space in the greater DC area.
Article excerpt and image from "Tysons on track to become vibrant urban corridor" from Inside Nova, March 17, 2014