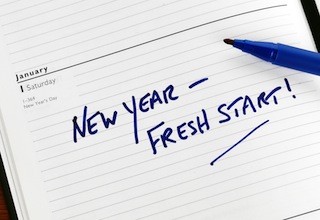 Many of us ponder the resolutions we'll make in our personal lives as the new year arrives, but have you done the same for your business? Perhaps you'd like to cut expenses, get more organized, expand your market reach or focus on retaining satisfied customers. Whatever your aims, Metro Offices can help you create an innovative plan to get there! Here are some tips and methods to help you accomplish your business goals in 2014.
All things in moderation, including work. Two-thirds of entrepreneurs indicate a personal passion drove them to start their own business. Don't let the unrelenting grind of running your business tarnish the love you have for it; be sure to give yourself regular time off to rest and recharge.
Delegate more. A never-ending to-do list comes with running a small business, and you may think you need to do it all. Consider reclaiming more time by outsourcing certain tasks to a virtual receptionist or a highly trained office staff. By using Metro Offices' business support services, you can make the most of every dollar and every hour.
Travel less. Utilize Metro Offices' cutting-edge technology to stay connected with your clients, anywhere in the world, without ever leaving town. Videoconferencing, high-speed internet, cloud computing and colocation services are only a few of the options we bring to your fingertips to help you work smarter, not harder.
Go small. Why waste money on leasing and maintaining an expensive facility when you can get more for less? Metro Offices features unlimited workspace solutions to satisfy your DC office space requirements. Use only the space and administrative support you need each month. As your business changes and grows, we'll be ready with a new solution.
Be flexible. Are you a government contractor faced with the need to find your own office space and technology to get the job done? Flexible solutions like FlexDesk® and virtual office solutions allow you to start immediately and work efficiently to get a leg up on the competition. Also, our DC telework solutions let you stay at home to take care of a sick child, while still being able to connect and continue with your business day while out of the office.
We wish you luck as you put these small business tips into practice over the coming year. For questions about the benefits available to your business through a prestigious DC office space, contact Metro Offices at (703) 871-5208 or click here. Happy New Year!