Leaving a stable office job and starting a home business is a leap of faith, but it's also a worthwhile challenge—an opportunity to be your own boss and to follow your life's passion. Now, after the hectic startup years, your business has finally found its stride and is ready to expand. This helpful article from OpenForum.com offers a valuable tip for entrepreneurs who are set to take their small business to a bigger and better stage: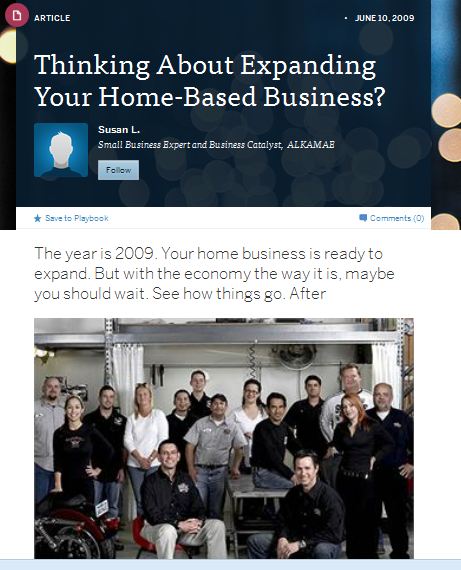 Expand your niche market
I know. This is just the opposite of what business experts tell you when you're just starting up a business. Then, it's narrow your niche market. Now, it's expand. Obviously, you've done a good job at targeting your current niche market.
Now it's time to look around at other markets to see where you can expand into. Look for complementary niche markets. Think of the products and services you now have and see what can be modified or redesigned to satisfy the needs of your expanded market.
Think in terms of expanding into a broader niche market as well as into a more focused target group. If women are your target market, consider expanding into the men's market. If you usually sell to larger retail stores, now focus on boutiques. […]
As the article states, expanding your market exposes your goods and services to more potential clients, thus bringing in greater revenue. However, another way to broaden your market is to expand the company's reach beyond its current location. Still, opening a new office in another city is an expensive prospect—aside from renting an office space, you'll have to fit out the workplace and hire employees to man the fort.
Fortunately, companies like Metro Offices offer virtual offices in Washington, DC that allow business people to establish their presence in a new market without spending a fortune. A virtual office is basically a subscription service that gives you a prestigious business address and an off-site staff that collects mail or takes calls which are then forwarded to you. If you have to make the occasional client call, you'll even have access to conference rooms where you can conduct business meetings. In other words, it's like having an office and a secretary without the associated costs.
The country's 38 million home-based businesses are all seeds that can blossom into industry-leading companies, and expansion is a necessary step towards this goal. Thankfully, a Washington, DC virtual office setup makes business expansion more affordable and less risky.
(Article Information and Image from Thinking About Expanding Your Home-Based Business?, OPEN Forum)