An article on the Property Wire website dated December 17, 2013 discusses the possible trends for the office market for the year 2014. As more businesses are created each year, there's a growing need for office space to house companies, yet space can be a scarce commodity. The article makes acute observations of the current market and outlines how they will affect next year's trends: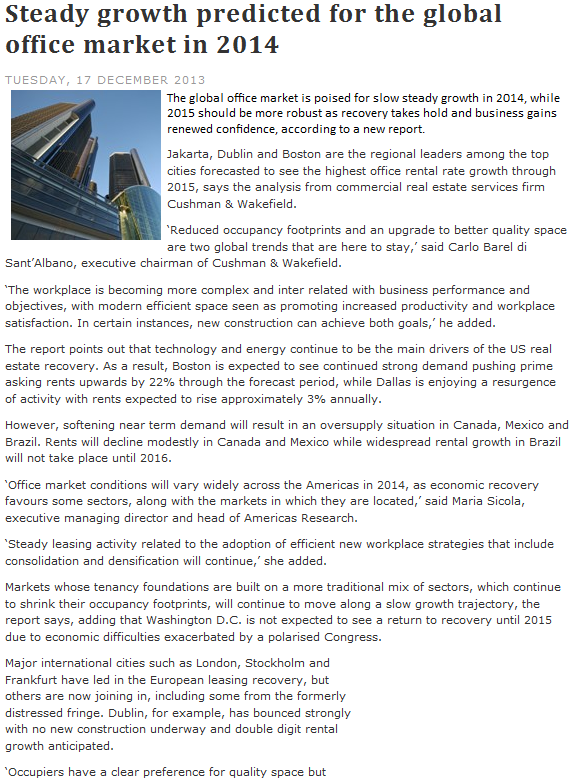 'Occupiers have a clear preference for quality space but many are encountering supply constraints in an increasing number of cities,'
. . .
'This is pushing rental growth and occupiers will have to move sooner than expected to secure deals on the decreasing amount of quality space that is available,' he explained, adding that this will push rental cost up quite sharply in the most under supplied markets but rental trends will be highly variable through the forecast period with many markets flat and weaker locations having to cut rents further to remain competitive.
. . .
The report also points out that considering the prevalence of high rents and continued increases, many tenants are taking a long, hard look at devising ways to achieve efficiencies. Many businesses are seeking space in lower cost options outside of the central business districts and in the process upgrading to new construction.
Unsurprisingly, the article states that numerous tenants prefer office spaces that are affordable. However, choosing inexpensive rental space can come at the cost of quality, which can work against some businesses. It's a good thing that businesses can find office space in Washington D.C. that's both within budget and with superior accommodations.
There are numerous considerations that businesses have to take before selecting an office space to lease. The costs of renting space can be high at times, yet losses can be recouped if the unit is conveniently next to the suppliers and customers of the company. It's also a big plus to have an office that's easily accessible to the workforce.
Although Washington D.C. might be an unlikely choice for some businesses, it has its strengths. The downtown region is conveniently next to many of the region's most prominent companies that could be potential customers for these new lessees, and it's a very expedient spot for most commuting employees. Interested businesses could get in touch with real estate workplace services such as Metro Offices to easily secure prime Washington D.C. office space.
(Article Information and Image from Steady growth predicted for the global office market in 2014, Property Wire, December 17, 2013)