If your company has a sizable population of full-time female employees, then you'd naturally want to occupy the type of Washington, DC office space that makes a healthy work-life balance possible in keeping with the city's efforts at closing the gender gap in the workplace. According to an article on Yahoo! News, female employees in the nation's capital receive relatively better wages and incentives. The article cites findings from a recent study by the Bureau of Labor Statistics:

While the area offers several employment opportunities for the politically inclined, many women also work in research in area universities. With the tourism industry booming in the District-- Washington, D.C., had approximately 16.1 million domestic visitors in 2011 -- more prospects of work have also been added.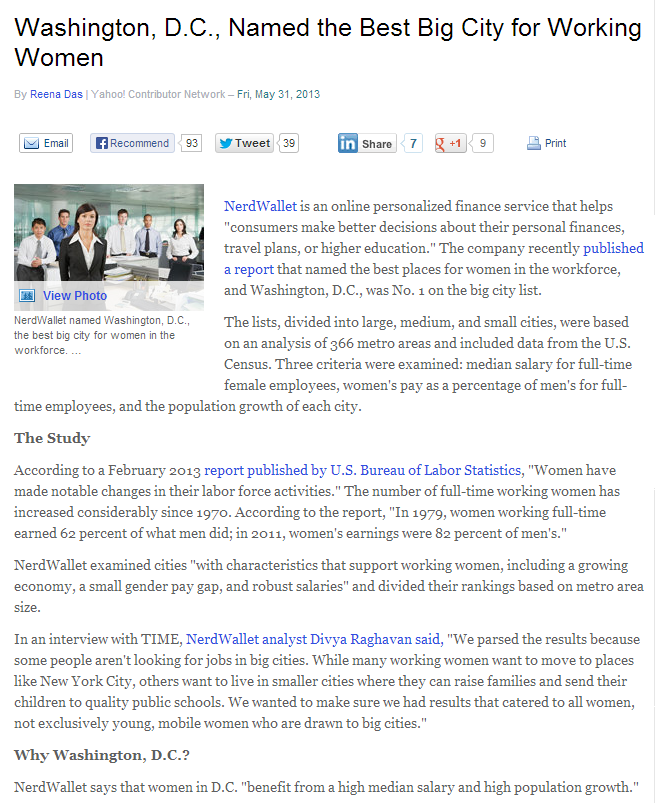 With such avenues, the median earnings for full-time, year-round female employees in D.C. is $55,688, and women's earnings in D.C. are 81.9 percent of men's earnings.
What's even better is that this almost non-existent gender gap in earnings also extends to the diversity of professions women can find in DC. In the same study, the BLS noted that nearly half of the city's labor force in medicine, education, accounting, hospitality, and banking were all filled by women. Of course, this doesn't mean that business conditions in the city only favor those companies that have a lot of female employees.
Meanwhile, the World Bank discovered in 2012 that most women seek a balance between their professional and personal lives, particularly if they intend to raise a family at some point. Upwardly mobile female entrepreneurs, in particular, need the kinds of flexible working arrangements that allow them to complete their tasks even outside their home offices. This is where a virtual office space in Washington, DC can come in handy.
The ideal virtual office center is accessible 24/7 and is conveniently located near transportation hubs as well as commercial establishments and restaurants. Likewise, such a facility offers fully furnished private offices with features like fax and soft phone lines, high-speed internet access, and secure network connections. Such an office can serve as an independent business owner's official business address so one doesn't need to build an office from scratch or entertain clients at home. For scalable workplace solutions, turn to a trusted company like Metro Offices.
(Article Excerpt and Image from Washington, D.C., Named the Best Big City for Working Women, Yahoo! News, May 31, 2013)