An article in the Upstart section of the Business Journals website talks about how new and small businesses can save on operational costs by considering their office space options wisely. Commercial space can be a costly investment, but each company will nonetheless need a physical address where employees can collaborate and do their job efficiently. The article mentions several alternatives to traditional commercial office leases:

Co-Working Spaces
Co-working spaces are open offices designed to allow freelancers, remote workers and startup entrepreneurs to collaborate together away from home. Think of them as a more business-oriented solution than working alone in a coffee shop.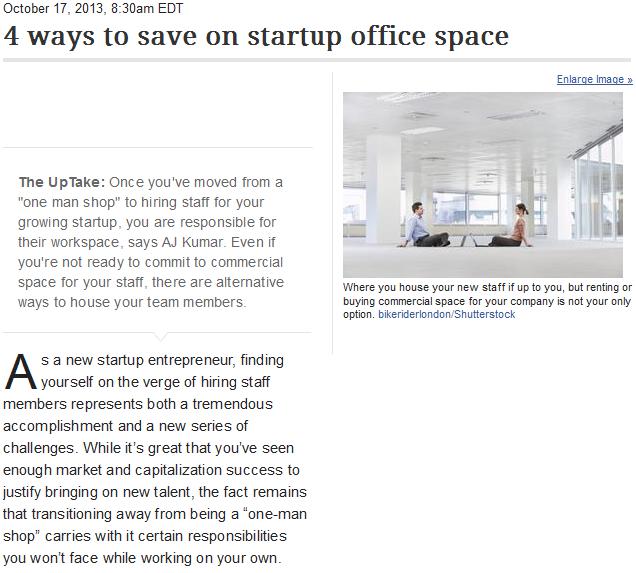 Remote Work Arrangements
Now, before you sign on the dotted line of any rental agreement, it's a good idea to take some time to determine whether or not you actually need office space in the first place!
There are plenty of tools on the market today that enable you to manage employees online –-whether your staff members are located in the same city you are, or thousands of miles away. As an example, using tools like Skype for office communications, Basecamp for project management and Salesforce for CRM info makes it entirely possible to manage a team of workers effectively from a remote location.
In most cases, startup companies will have to make the most of their potentially limited resources. Office rental in Washington, DC is one such option available to startup businesses, particularly those with remote work arrangements for employees. Of course, this entails finding a reasonably priced shared office space for rent.
Shared offices are essentially commercial spaces for rent that can be occupied by several companies. These facilities are typically fully furnished with the necessary communications and audiovisual equipment, which often represent a significant portion of a startup company's initial expenses. In contrast to traditional office layouts, shared offices offer flexible space solutions—perfect for when you need a high-end video conferencing facility or additional meeting rooms.
You no longer have to make do with limited space in your premises when scalable and flexible shared office spaces are within reach. Likewise, you don't need to hire, train, and pay the salaries of additional office staff since a typical shared office facility often comes with full administrative services. Trusted workspace solution providers such as Metro Offices manage the type of shared office space for rent in Washington, DC that offers utmost flexibility.
(Article Excerpt and Image from 4 ways to save on startup office space, Upstart Business Journals, October 17, 2013)