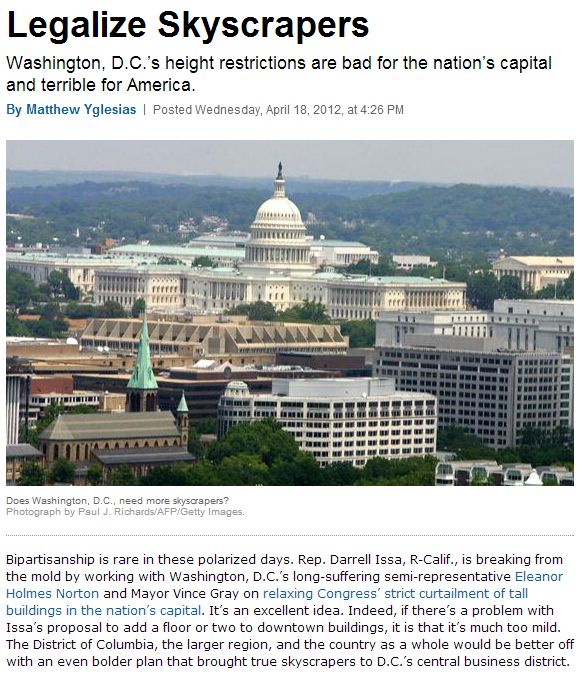 In 1899, Congress set height restrictions for buildings in Washington, D.C. as a means of ensuring the structural stability of buildings. Since then, they have steadilyy become an expensive problem for the federal capital, whose influence is divided between being a political center and being a regional leader in commercial and cultural matters.
Within the next few decades, the genius of engineering made the erection of skycrapers possible and allowed cities such as Boston and Chicago to do away with height restrictions. More than a century has passed and a few ammendments to the height rule have been approved, but the typical Reston office space in Virginia and other suburbs of the D.C. metropolitan area remain relatively modest height-wise.
Matthew Yglesias from Slate Online argued that hotel rates in the capital are more than double the national average, and that there's something wrong when American taxpayers are paying for the upkeep of DC tourist attractions yet cannot even afford to stay overnight in DC. According to Lydia DePillis of the Washington Post, this problem also makes housing and office space very expensive "in a city that's already difficult to live and do business in [with] a monotonous, ice-cube tray quality on the skyline."
A recent study commissioned by Rep. Darrell Issa revealed that a moderate increase to the city's height limit between 130 to 160 feet would "incentivize developers to add on to existing buildings and construct taller new ones." DePillis thinks higher buildings make "office space more attractive and add enough capacity to ease office rents."
The study also concluded that such a project would attract new businesses, creating 7,100-14,000 new jobs in addition to an annual average of 1,000 temporary construction jobs. Meanwhile, between 4,400 to 7,900 new residential unites could be put up if height restrictions were increased; rents would still be costly, but not as impossibly expensive as it is at the moment. It is seen that more residents, especially when clustered closer to metro stations, will boost businesses without letting the commuting issue become more severe.
For the meantime, the suburbs and exurbs provide excellent economical alternatives to hold residence and set up offices. Many Renton, VA office space providers such as MetrOffice allow companies to lease these work spaces on different time frames. Their rates are on a per-day to annual basis in conveniently located buildings across DC, Virginia and Maryland.
As a city renowned for excellent urban planning, Renton is one of the most ideal places to come to work on foot, by bike, bus, or private vehicle. When the Washington Metro finally extends a line to Dulles International Airport, Renton will get at least two Metro stations. The DC metropolitan area is brimming with potential, and while awaiting results on the height restriction debates, the surrounding areas provide a good backup for extra space.