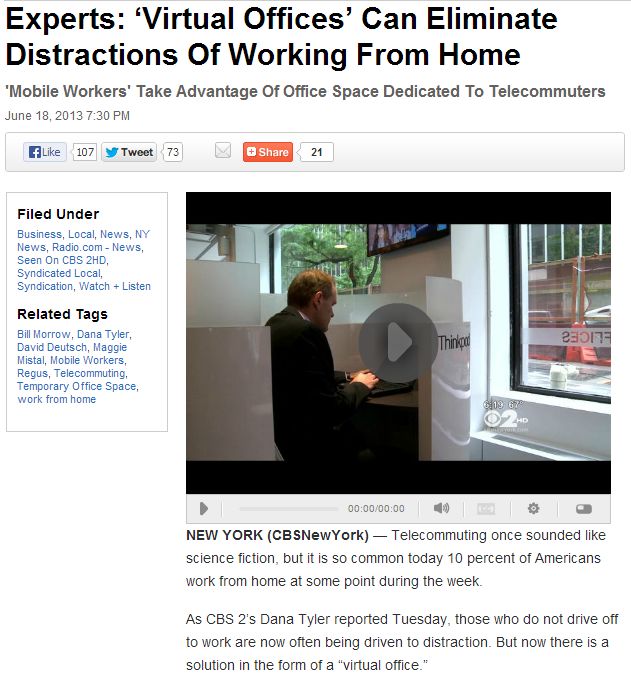 Working at home may help professionals save on bus fare and fuel, but it's not for those who get distracted too easily. If you spend more time checking your Facebook account than getting work done, even working at home won't solve your job woes. Fortunately, CBS New York reports that there's a way for professionals to stay focused and productive without having to set foot inside the office—and that's through virtual offices.
Virtual offices are becoming increasingly relevant in a world that is connected by advanced telecommunication systems. A virtual office is the mobile version of the traditional office space, which is becoming scarcer these days. The virtual office is simpler in set up since it focuses on two things: a power outlet and high-speed Wi-Fi. Mobile workers can bring their laptops or tablets to a virtual office in D.C.—like those being provided by Metro Offices—hook up their devices to the offices' systems, and start working.
As much of the work is done on the Web, virtual offices leave little to no paper trail or clutter behind, which also reduces the need to archive media. A small cubicle with a ready power outlet and access to the office's Wi-Fi can provide mobile workers with everything they need to get work done. As professional work environments, virtual offices can relieve mobile workers of the distractions that can be found at home, which can take the form of ringing phones and boisterous children. It also beats working at coffee shops and malls where the crowd is the distraction.
Despite the obvious differences, working in traditional and virtual offices share some similarities, such as the need for face time. Experts say that professionals who wish to receive promotions and incentives will still need to go to office-related events, and have physical meetings with their superiors and colleagues. Moreover, even if a business largely operates in cyberspace, they still need to establish a good image and maintain a respectable business address.
In addition to the various agencies of the Federal Government, a diverse range of businesses operate in the Washington, D.C. Metropolitan area. These businesses and government agencies can cut back on office space costs by relying on companies that provide D.C. virtual office spaces, like Metro Offices. Many of these virtual office programs cost less than $2 a day, and clients can use amenities like business lounges, executive cafes, conference rooms, and shared office spaces.
Virtual offices also provide mail services so that businesses can receive mail and packages 24/7. Administrative support in the form of receptionists, secretaries, and other office assistants can help clients get their work done more efficiently and quickly. By relying on the convenience of virtual offices, businesses can get the services they need without investing in permanent office spaces, and working professionals can avoid the distractions of home.