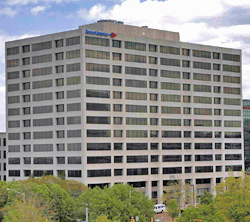 Tysons Corner may not be located in the heart of Washington D.C., but it is in the middle of the corporate-rich Northern Virginia countryside. So while you will have quick and easy access to the halls of power in Washington, you will be surrounded by the decision-making towers of DC's corporate world.
Our Tysons Corner location is just minutes away from the Beltway and Dulles International Airport without having all the drawbacks of being near an airport. We are also close to the world-renowned Wolf Trap Performing Arts Center and majestic Blue Ridge Mountains, so if you need to entertain clients you have a variety of choices just moments away from where you conduct business.
We offer a wide variety of office sizes and layouts to fit your needs. Each office space in Tysons VA is fully-wired for phone, fax and internet, and includes access to spacious meeting facilities that are well-equipped with furniture and the latest technology.
The highly-trained and professional staff members supporting these offices are there to ensure you have the services and assistance necessary to please your clients and improve the success of you business. You and your team members can spend more time on projects and tasks essential to your business growth, while the support staff in Tysons VA office space handles the details and more minor tasks that tend to slow you down.
Visit our website and take a virtual tour of our Tysons Corner location and a list of included amenities that will have you convinced our Tysons Corner is the perfect location for your business!